Project: "Chopin at the Pyramids. Classic, Jazz, Rock from Warsaw "- a spectacular multimedia show that combined unique symbols of two different cultures: the great pyramids of Giza and the spirit of Poland singing in Chopin's music.
On that day, for the first time ever, the Pyramids were illuminated in white and red, which required obtaining a special permission from the Supreme Council of Antiquities.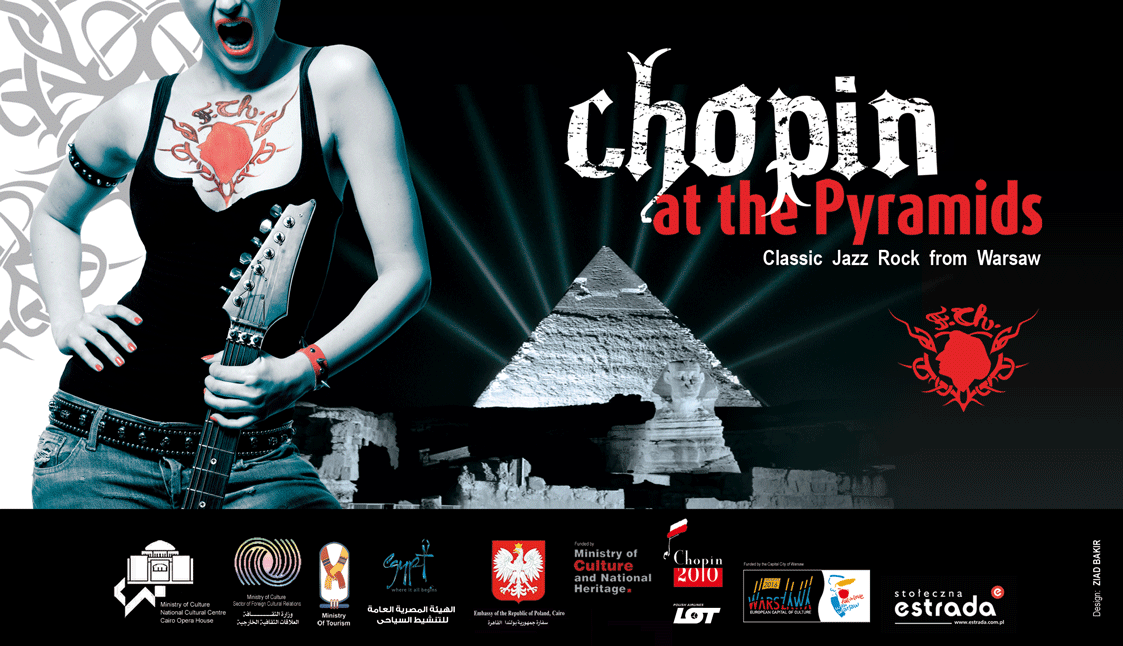 Objective: Promotion of Polish culture by showing in a distinctive, modern and accessible way the attractiveness and timeliness of Chopin's music in Egypt.
Realization:
Realization of the non-standard, spectacular event
Event supported by the authority of its partners, including:  the Ministry of Culture and National Heritage
Involvement of leading performers, including: Janusz Olejniczak. Leszek Możdżer, Anna Serafińska, Dina Iskander, Royal Quartet
Inviting representatives of the major media (BBC, Reuters, TVP, TVN, Rzeczpospolita, the Egyptian national channel TV NILE)
Participation of distinguished guests (eg Piotr Adamczyk, Justyna Steczkowska, Anna Czartoryska and others)
Results:
About four thousand people took part in the "Chopin at the Pyramids. Classic, Jazz, Rock from Warsaw" concert. The Egyptian press reported: "Poles delighted the Arab world with their culture", "It was definetly the greatest concert you could imagine!". The concert also made a great impression on the cultural circles of Egypt, as well as the entire Middle East. In terms of promotion, in the perspective of the last dozen or so years, it was the most coherent and strongest message about Poland, addressed to recipients in this region of the world. Dozens of television and radio crews reported this great event all over the world, and TV NILE – the National Television of Egypt broadcast a retransmission. The event was also retransmitted on the Internet by one of the most widely read American music magazines – the CWG Magazine. The Polish media made a huge contribution. Telewizja Polska informed about the spectacle in five live entrances, including major editions of information programs such as: Teleexpres, Panorama and Wiadomości and prepared a 30-minute report from the concert.